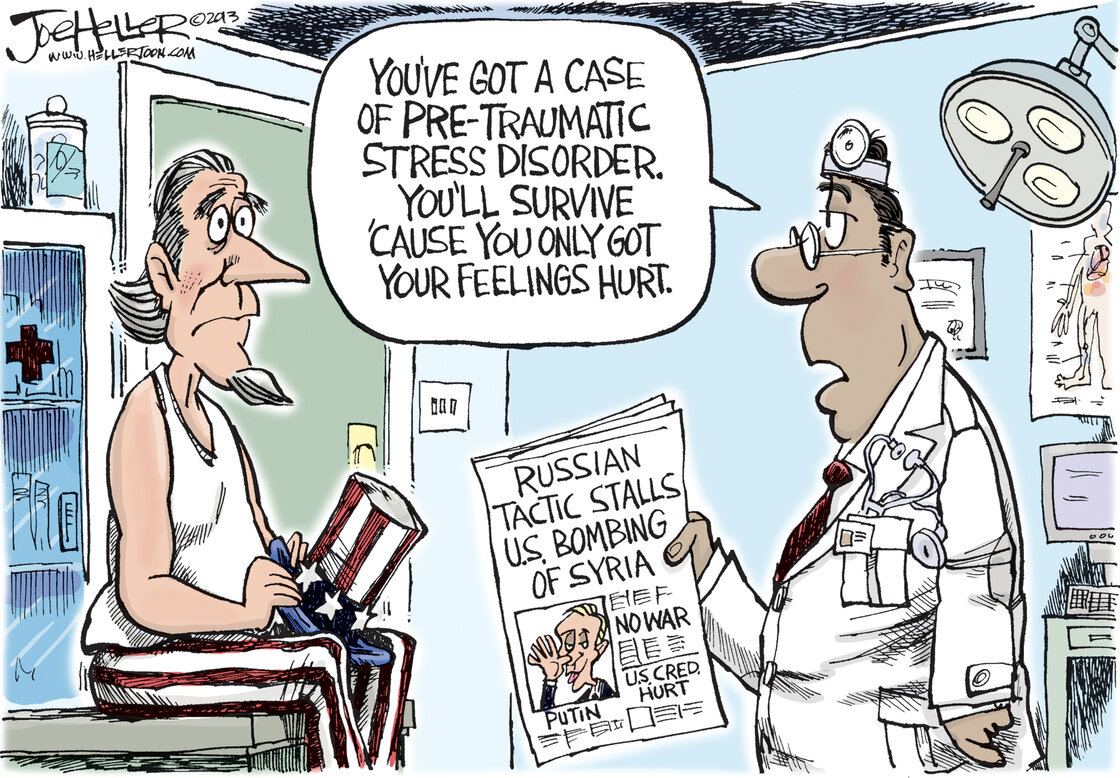 Recently, President Putin, in an open letter to the American public, tried to speak some sense and give voice to an alternate reality than the one that the one party, two branch Masonic cult has been using to indoctrinate the serfs.
He should have known better.
It is said that those whom God wishes to destroy he first drives insane and there are few more insane than the modern American, anti-Christian, degradation that poorly passes as a society. To Putin's letter they have reacted in indignation and self-righteous posturing. How dare he preach to us? Of course, that the hypocrites preach to the whole of the world, is beyond their thoughts, after all, as God's gift to humanity they have the right to be self righteous boobs.
We'll ignore that the nation murders its unborn up to the day of birth and its bio-"ethicists" insist on post birth abortions...murder. Our abortion is capped at 12 weeks and we are moving for a total ban. We'll ignore that they have the highest drug use, have some of the most dangerous cities in the world (not a one Russian city made the top 50 list, but plenty of US cities). We'll ignore that 20% of Americans in surveys recently out stated that they have problems providing enough food to survive on or that the rest of fatter than a hot air balloon from the fast food crap they consume in place of real food. We'll ignore the slave labour of illegal aliens or foreign child labour sweat shops. We'll ignore the mass violence of their oppressive police forces or the police state's insane survalience, or the endless wars of profit and mass murder. We'll ignore the fact that they are the biggest mass producers of pornography, exporters of homosexuality, and oppressors of Christianity, be it at home or through military support of Jihadists....we'll ignore all that, and thus ignore the vast majority of what has transpired over the past 30 years.
But what have the American media been saying in response to Putin's sensible and restrained letter? Why what would one expect?
Senators unite in criticizing Putin's op-ed on Syria http://www.usatoday.com/story/onpolitics/2013/09/12/mccain-putin-syria-op-ed/2803905/
Sen. John McCain, R-Ariz., was succinct in a Thursday morning post on Twitter, calling the Putin column an "insult" to Americans. Across the political aisle, Senate Foreign Relations Committee Chairman Robert Menendez said he practically tossed his dinner.
Over in the House, Speaker John Boehner, R-Ohio, said he was "insulted" by the Putin column.
The typical response of American politicians, verbally something on the level of a 5th grade student who sits in the back of the classroom, drawing on the table. God forbid anyone brings up their hypocrisy to their faces, these mental midgets and spawn of Satan surely could not handle it.
Menendez says Putin op-ed made him want 'to vomit' http://thehill.com/video/in-the-news/321859-criticism-of-putins-op-ed-builds-among-lawmakers
"I almost wanted to vomit," Senate Foreign Relations Chairman Robert Menendez, (D-N.J.) told CNN.
"I worry when someone who came up through the KGB tells us what is in our national interests, and what is not. It really raises the question of how serious the Russian proposal is."
Vladimir Putin -- the last person in the world who should be lecturing us on democracy and equality

Rep. Vern Buchanan
Putin a hypocrite with blood on his hands http://edition.cnn.com/2013/09/12/opinion/ghitis-putin-hypocrisy/index.html?hpt=hp_t1


This time, Putin's PR machine managed to get him an op-ed in The New York Times, just in time for the start of talks in Geneva, Switzerland, over a plan to dismantle Syria's chemical weapons arsenal. The column is so filled with hypocrisy, inaccuracies and even veiled threats that it's hard to know where to begin.
Nothing could be more deliciously absurd than Putin accusing America of not being a "model of democracy," except perhaps for his closing line in which he chastises President Barack Obama for speaking of American exceptionalism. Obama shouldn't have said that, Putin humbly explains, because "We are all different, but when we ask for the Lord's blessings, we must not forget that God created us equal."




Right. All equal. That coming from the man who has presided over the introduction of law after law turning gays and lesbians into second-class citizens in Russia, with the latest allowing police to arrest anyone suspected of being "pro-gay."
No, Putin's actions are not driven by a passion for peace and democracy. They are an example of cold calculation -- a quest for power and a bold display of hypocrisy.
I am sure the facts of Frida Ghitis championing all this homosexual and perverse had nothing to do with those comments.
Charles Krauthammer: 'Obama Has Been Played' http://www.theblaze.com/stories/2013/09/12/charles-krauthammer-shreds-obamas-epically-incompetent-foreign-policy-he-has-been-played/
"Here is the president of the greatest democracy on Earth, being lectured — insultingly, really — in an American newspaper about human rights, about international law, about the protection of the elderly and children in wartime." Krauthammer said.

He said it only makes it more embarrassing that the lecture came from a "KGB thug."
Cruz hits back at Putin's attack on American exceptionalism http://www.examiner.com/article/cruz-hits-back-at-putin-s-attack-on-american-exceptionalism?cid=rss
'Autocrats have reason to fear when Americans focus on our principles, and focus on exceptionalism, because it's been American exceptionalism that stood up to the Nazis, stopped the murder from the Nazis,' said Cruz.
I don't even know where to start with this loony toons fool....and he is the future of the American conservative movement? Regardless of where one turns when dealing with the Yanks, who force everyone to deal with them by never leaving anyone alone, its all idiot hour every hour.
An Explanation of American Exceptionalism for Vladimir Putin and Barack Obama http://www.rushlimbaugh.com/daily/2013/09/12/an_explanation_of_american_exceptionalism_for_vladimir_putin_and_barack_obama
My God, we have the communist leader of Russia more proudly quoting the Declaration of Independence than our own president does! We got Vladimir Putin asserting a "moral superiority" to the president of the United States. Vladimir Putin!
Anyway, what American exceptionalism is not: It is not that we are better people. It is not that we are superior people. It is not that we are smarter people. It is not that God loves us and hates everybody else. It is not that God prefers us. It is not that God doesn't prefer anybody else.

The history of the world is dictatorship, tyranny, subjugation, whatever you want to call it of populations -- and then along came the United States of America. Pilgrims were the first to come here seeking freedom from all of that. They were oppressed because of their religion. They were told they had to believe in the king and his god, whatever it was, or they would be imprisoned.

They led an exodus from Europe to this country, people of the same mind-set. They simply wanted to escape the tyranny of their ordinary lives. This country was founded that way. For the first time in human history, a government and country was founded on the belief that leaders serve the population. This country was the first in history, the EXCEPTION -- e-x-c-e-p-t, except. The exception to the rule is what American exceptionalism is.
You could dismiss and laugh at this, but one must realize that this buffoon actually influences what passes for political thought in the insane assylum. Yes, God prefers you for supporting and leading Jihadists to murder His children in Bosnia, Serbia (Kosovo), Russia (Chechnya), Israel (PLO), Egypt, Syria, Lebanon, Iraq, Libya, Cyprus...heck, Turkey if we go back far enough to the 1920s or that it was American oligarchs that helped make sure the Russian Revolution happened and that the Reds won the civil war or who put Hitler in to power and made sure he had what was needed to rape most of Europe.
But all is not lost, we are about to be entertained by the Whore Of Islam, the Mad Mental Midget himself, a senile, irrelavent, Islamic terrorist strumpet: John McCain with his own op-ed letter to us. Go figure it'll be in the Communist paper: Komsomolskaya Pravda.